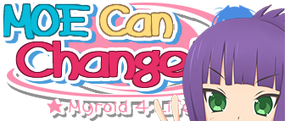 Welcome to the MOE Can Change! Wiki
Featured Pages
Raising your MyRoid

Edit

Daily Events

Edit

Player Resources

Edit

Player Communities

Edit
Latest News & Updates

2019-01-10
Edit
Gacha!
2019-01-07
Edit
2019-01-01
Edit
New Lucky Bags!
Read the Past News.
Event in progress:

This event ends in Feb 18 2019 01:30 GMT [EVENT HAS ENDED]
Friday: Kanna's Secret Shop Opens Today!

Latest Gacha:

The Forums
You can find the MOE Can Change! Wiki's Forums here. Click here to create your own account.
Monthly Poll
There is no poll for this month. Click here to create one!
Moe Can Channel! - Twitter